RelativityOne Hold and Collect workspace template
Note: For existing customers, new versions of our templates are made available for download on the Community site. To receive a copy of an associated workflow document, go to the Community or contact Relativity Support or your Customer Success Manager. For new tenants, templates are automatically deployed as part of new tenant provisioning process. If you customize your copy of a template, we do not overwrite that customized copy. We recommend deleting old versions of your templates when you are no longer using them.
The RelativityOne Hold and Collect Template has the Collect application and RelativityOne Legal Hold application both installed. Tabs have been pre-configured to expose the most common workflows. The prolonged use of the RelativityOne Legal Hold application in this template requires a separate license from Relativity. Send us an email to learn more.
You can find an ARM of the template in the Templates section of RelativityOne or on the Community at RelativityOne Hold and Collect Template.
Template with Collect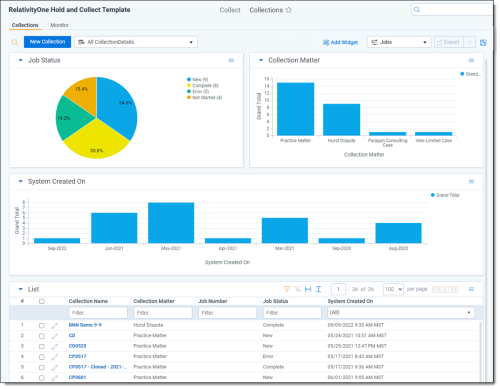 Template with Legal Hold
Change log

Change Log Table
| Component | Change | Date Updated | Template Version |
| --- | --- | --- | --- |
| Groups | Removed the RelativityOne-Support group. | June 28, 2023 | 2.0.3 |
| Install Event Handlers | Resolved a defect impacting the Processing application. | March 27, 2023 | 2.0.2 |
| Groups | Template-specific groups are now the only groups with default access to the template. | April 19, 2021 | 2.0.1 |
| Template | The RelativityOne Hold and Collect Template is available. | March 19, 2021 | 2.0.0 |