What's New feature
The What's New in RelativityOne feature gives users the opportunity to learn about new and noteworthy updates and enhancements directly in RelativityOne.
How does it work?
Upon logging into RelativityOne, users will see a megaphone in the header indicating there are new What's New notifications to read.

Clicking the megaphone will open a right-side panel with the What's New content. This content scrolls and links out to more information in a new tab.
(Click to expand)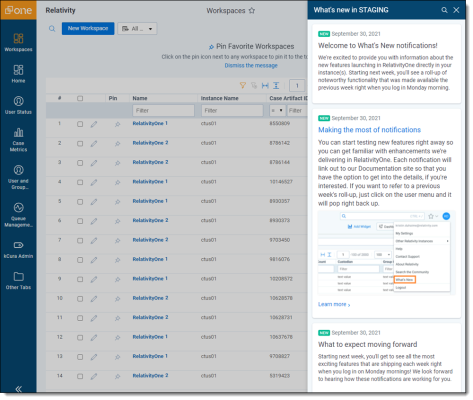 Once these notifications have been read, the megaphone will disappear. To access the right-side panel again, you can find the What's New option in the user menu.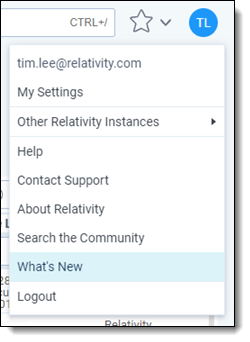 When the next set of What's New notifications are posted, the megaphone will reappear in the header letting the user know there's brand new updates and enhancements to learn about.
Who sees these updates?
Notifications are only sent to System Admins.
When will these What's New notifications be posted?
Notifications will be shared in a weekly roll up update on Mondays at 7:00 am CT.